We have a full staff dedicated to keeping your smile at its healthiest. Take a look around, and meet our team!

Drs. James and Gina Saindon were recently featured in an issue of Health & Family Magazine.
Your trusted Somerset, Kentucky Dentists since 1991.
Welcome to the website of Saindon & Saindon Family Dentistry. Located in Somerset, Kentucky, we are a local family dental practice specializing in diagnosing, treating and preventing diseases of the teeth and gums. We offer comprehensive dental services including preventative care, professional cleanings by registered dental hygienists, in-office (Zoom) and at-home teeth whitening, tooth colored fillings, cosmetic bonding, porcelain crowns, porcelain veneers, implant restorations, root canal therapy, extractions, natural looking dentures and partials.
We believe in the theories of modern dental care, which do not support the old premise of, "when it hurts, fix it." Through proper preventive care and regular checkups, we believe that it is highly likely that most of our patients can expect to keep all of their teeth for all their lives. The first step to a healthy smile and gums is scheduling an appointment. Contact us today!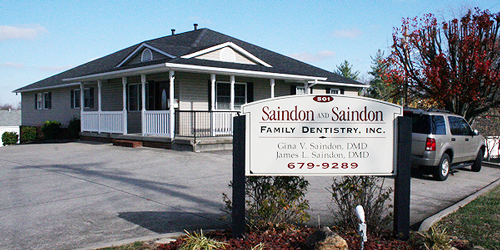 We are located at 501 College Street in Somerset, KY 42501. The office is on the hill just up from where Highway 39 crosses Hwy 80.
Hours: Mon-Thu 9:00 am - 5:00 pm
Fri: 8:30 am - 1:30 pm
Address: 501 College Street
Somerset, KY 42501
Make Your Appointment Today!
Saindon & Saindon Family Dentistry